Everyone absolutely loved my white chocolate popcorn in their holiday treats bags this year. I was almost embarrassed to admit how incredibly easy it is to make.
What you need to make white chocolate popcorn:
Popcorn popper
A big mixing bowl
Popcorn kernals
White chocolate chips
Holiday sprinkles (optional)
I would not suggest using microwave popcorn for this (unless you can find some plain popcorn). I popped up a big bowl of popcorn, while the popcorn was popping I melted half a bag of white chocolate chocolate chips in the microwave. I cooked for 30 seconds, stirred and cooked for another 30 seconds It only took a minute to melt the chocolate.
Once the popcorn was popped I drizzled the white chocolate over the popcorn, stirred it, drizzled more and stirred again. I kept slowly adding the melted white chocolate until it was all gone. I added the sprinkles and stirred. I placed the bowl of white chocolate popcorn in the freezer for about 20 minutes to let the chocolate set without working its way to the bottom of the bowl.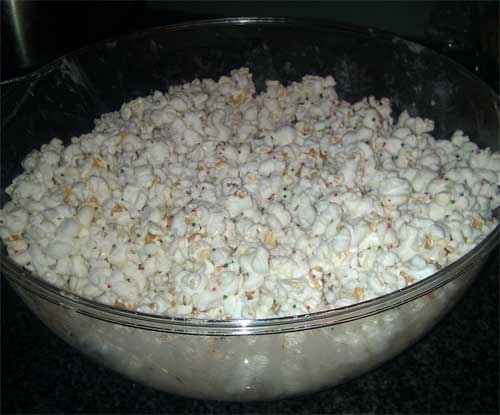 I pulled out the bowl of popcorn and let it thaw a bit and carefully chopped it up with a large spoon. I added it by the spoonful into folding sandwich bags and tied with a ribbon.