My mom always made fantastic au gratin potatoes when I was a child. Today I had a bunch of leftover potatoes from the local farmers market and I decided to test making au gratin with red potatoes using the colby and monterey jack shredded cheese mix in the fridge. I decided that this recipe for aug gratin potatoes would make a great side dish to the steaks my husband had ready for the grill.
Cheesy Red Potatoes Au Gratin Recipe Ingredients:
6 large red potatoes or 10 small red potatoes cut to ¼ thin slices and leave the skin on
1 small yellow onion chopped into large pieces
3 tablespoons butter
3 tablespoons flour
½ teaspoon salt
2 cups milk
2 cups shredded colby and monterey cheese mix
Sea salt
Fresh ground pepper
Preheat oven to 400 degrees Farenheit.
Butter the sides of a one quart casserole dish. Add potatoes and onions spacing evenly.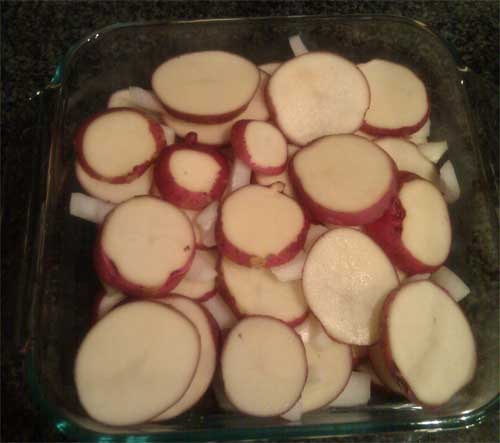 Heat butter in a medium pan. Add flour and salt stirring frequently with a whisk. Once this is all mixed add the milk. Keep cooking and stirring until thickened. Add 1 ½ cups of cheese into the sauce. Keep stirring until the cheese has melted into the sauce. Add fresh ground pepper and stir into sauce.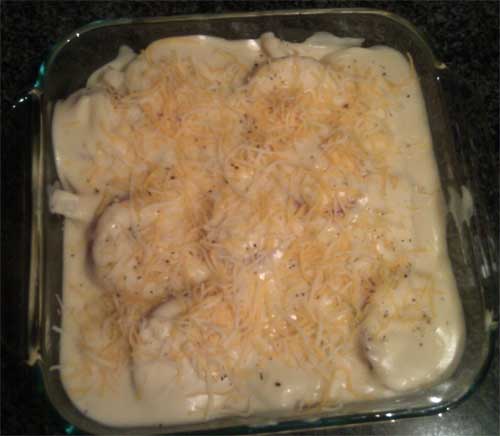 Pour cheese sauce over potatoes and onions. Sprinkle fresh ground pepper and remaining ½ cup of cheese over the potatoes. Cover dish with tin foil and bake in the oven for 80 minutes. Take out the potatoes and remove the cover. Sprinkle a little more cheese and place back in the oven uncovered for 10 more minutes. Remove and serve.