One of my favorite side dishes is red potatoes. I decided to explore over roasting the red potatoes. I made these as a pairing with some BBQ ribs we cooked on the grill. I picked up the red potatoes at the local farmers market along with most of the other ingredients.
Preheat your oven to 450 degrees.
1 lb red potatoes halved
1 small yellow onion cut into quarters
Large garlic clove or two small cloves
Olive oil
Sea salt
Fresh ground pepper
1/4 cup shredded parmesan cheese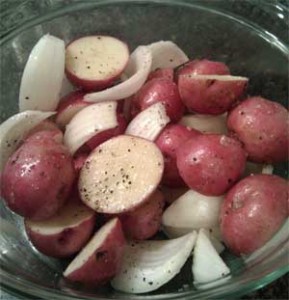 Lightly cover the halved red potatoes and onions with olive oil. Stir in pressed garlic, salt, and fresh ground pepper. Spread out in a glass pan (personally I cover the pan with tin foil on the bottom to cut down on clean up). Cover the potatoes with tin foil. Cook at 450 degrees for 40 minutes.
After 40 minutes takeout the potatoes and remove the tin foil covering the potatoes and sprinkle the parmesan cheese over the potatoes. Turn up the oven to 500 degrees and cook for 10 more minutes. Remove and serve..