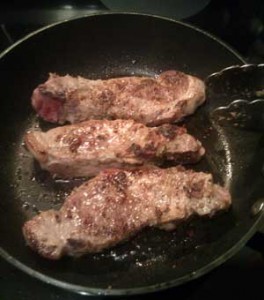 I tend to cook based on my available ingredients. We had thawed more pork ribs than we needed a couple of days ago so I needed to come up with a quick meal idea using pork ribs. I keep premixed greek souvlaki seasoning in the cupboard, so I opted to cook greek souvlaki style pork ribs.
I drizzled the pan with olive oil and heated to medium. I added the pork ribs and coated the ribs with lemon juice, sprayed them with olive oil and coated the ribs with the greek souvlaki seasoning.
After the pork ribs started sizzling I heated up another pan to a boil. Once the water reached a boil I added broccoli picked fresh from the garden in a steamer, turned down the heat to low and covered the pan to steam the broccoli.
I flipped the ribs every few minutes adding lemon juice, olive oil and greek souvlaki seasoning until the ribs were well coated. I continued to cook the ribs until they were well browned on both sides and cooked thoroughly. At about the same time the pork was ready the broccoli had finished steaming.
I server the broccoli in a bowl and drizzled with olive oil, balsamic vinegar and fresh ground pepper..