I finally gave in yesterday and bought some of the simple things I need, but haven't seemed to pick up over the years. I realized that a few items were necessary for me to expand into some good soups (chicken noodle soup with homemade noodles and butternut squash soup coming soon!). Starting the Cooking on a Dime blog has certainly started to accomplish what I had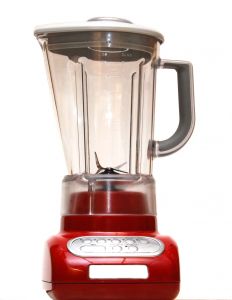 hoped, it is making me push my limits and try new things.
Maybe it is the lack of baking at my own home that I haven't managed to get a rolling pin, flour sifter and a good measuring cup for liquids. It could be that I intend to pick up on my baking skills this winter that I need them. The funniest thing that I was lacking in was a good blender, and pureed soups definitely require a good blender!
My mom ended up giving me her unused blender when she went shopping with me for food goodies. It is nice to have some new cooking tools under my cooking belt. Bring on the cooking!.