I sign up for a weekly produce box. One of the reasons I do it is so that I try cook with fruits and vegetables that I normally may not grab on my regular trip to the grocery store. This week my box came with tomatillos, one of my friends made us a delicious chile verde over the past year while I have been ill and unable to cook and it sounded like just the meal to cook for dinner. Chile verde is awesome because you can freeze extras and reheat later and eat it anytime.
I checked out a few recipes for chile verde online, there is quite a variety to choose from. I tested a couple of verde concepts and will probably continue to grow on this recipe, my husband remarked that it was the best verde he has ever had (although he does have to say such nice things to his wife, but I hope you try it out and agree). This is a mild chile verde, but is strong on flavor.
I make this on the stove and most often these days I will cook it in a crockpot on low for 24 hours to really get the flavors to meld (so 3-4 hours stove, or patient people can cook their pork chili verde in the crockpot for 24 hours).
3 tsp ground cumin
2 tbsp dried oregano
6 cloves garlic
3 lb tomatillo
3 jalapeno
2 lb pork
2 bunches cilantro
3 cups chicken stock
Olive oil
Salt and pepper to taste
Shredded cheddar cheese
Flour tortillas
1. Preheat oven to 375 degrees.
2. Spray a 2-3 inch deep pan with olive oil. Cut the tomatillos in half and place the top and bottom face down. Slice the jalapenos lengthwise and clean out the seeds and add to the pan. Add all of the whole garlic cloves. Bake for 50 minutes until the tops are slightly browned.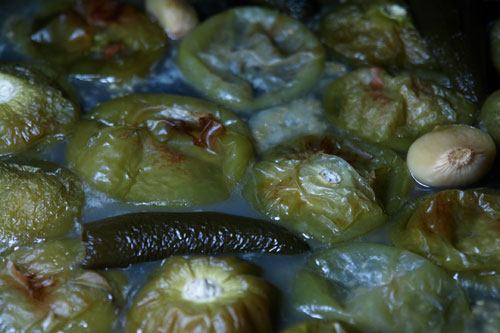 3. Cut the pork into half inch cubes cutting out as much fat as you can. Add to a large soup pot and brown in olive oil, salt and pepper. Keep warm until your tomatillos are ready.
4. Scoop up the baked tomatillos, garlic and jalapenos into your blender and blend evenly (or use an immersion blender, that is usually what I do). Add to the cooked pork.
5. Add the cumin, oregano, chopped cilantro, and chicken stock. Turn up heat to medium and cook until everything is hot. Turn down to a low simmer and let cook for 3-4 hours (you can throw all of the ingredients in a crockpot on low for 24 hours – make sure you stir it now and then). Add salt and pepper to taste.
6. Sprinkle the top with shredded cheese and serve with tortillas to dip in the pork chili verde.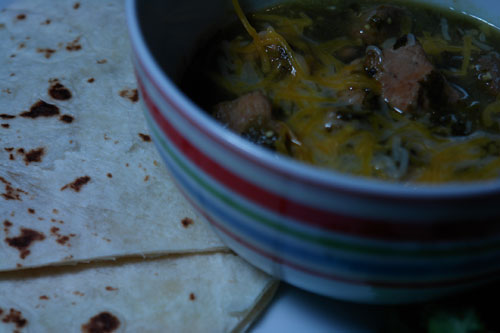 .