One of my all time favorite breakfast items is french toast. My husband I used to go out to brunch regularly on the weekends, but realized that you can make a delicious brunch at home for a fraction of the cost. I decided to make some french toast this weekend out of some delicious artisan bread I purchased at the local farmer's market. You can substitute french bread or your bread of choice. I decided to serve with some applewood smoked bacon and a fried egg.
Cinnamon Vanilla French Toast Recipe Ingredients:
2 large eggs
1/4 cup of milk
1/2 teaspoon imitation vanilla
Cinnamon
Mix eggs, milk and vanilla in a small flat dish that is larger than the bread that you will be coating in the french toast mix. I usually use a small frying pan because it is just the right size. Mix the milk, eggs and vanilla thoroughly with a fork.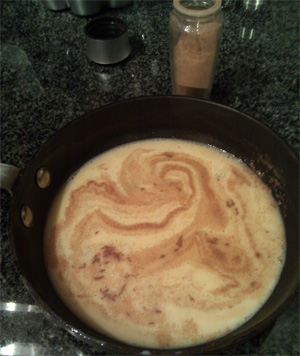 Carefully spread out cinnamon on the top of the mix, I will usually swirl it a bit with a fork. Dip both sides of the bread in the mix (careful not to soak the bread, you just want to coat each side evenly). Cook over medium heat on a nonstick pan until both sides of the bread are light brown..