In Salt Lake City, UT my husband and I love to visit Market Street, a local seafood restaurant with amazing clam chowder. Several people had informed me that they had released their recipe so I gave it a try. I used the Market Street recipe the first try and on the second on the second attempt I modified the recipe just a teensy bit as I found the first one too salty and I think sometimes it is better to be able to add salt to taste rather than find your dish over salted.
The second time I used a chopped for the vegetables (except the potato, which I did cube) – I spent way too much time perfectly cutting the vegetables the first time. Start getting the soup and vegetables ready while you are getting the flour/butter baked rue ready.
1 cup potato, diced 1/2 inch
1 cup celery, diced 1/2 inch
1 cup onion, diced 1/2 inch
1 cup leek, diced 1/2 inch
1 cup green pepper, diced 1/2 inch
3/4 cup chopped clam (canned or fresh)
3/4 cup clam juice
3/4 tablespoon fresh coarse ground black pepper
1 tablespoon salt
1 1/2 teaspoon whole thyme
6 bay leaves
1 teaspoon Tabasco sauce
3/4 cup sherry wine (optional)
2 cups water
2 quarts half-and-half
1 cup flour
3/4 cup butter, melted
Combine melted butter and flour in oven-proof container and bake at 325 degrees for 30 minutes. The result looks about like this: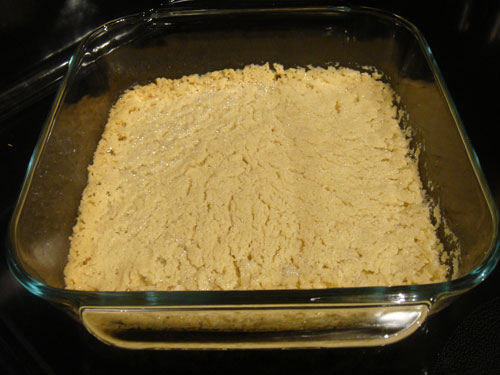 In large saucepan, combine remaining ingredients except half-and-half. Simmer until potatoes are thoroughly cooked.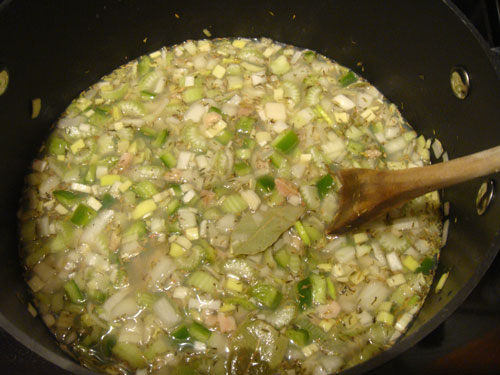 Stir the butter-flour mixture into the clam chowder and keep stirring until it thickens, the mixture will be slightly less thick than cookie dough. I tried this slowly the first time and a little more quickly the second, and it didn't seem to matter as much how fast I added the butter flour mixture to the clam chowder soup.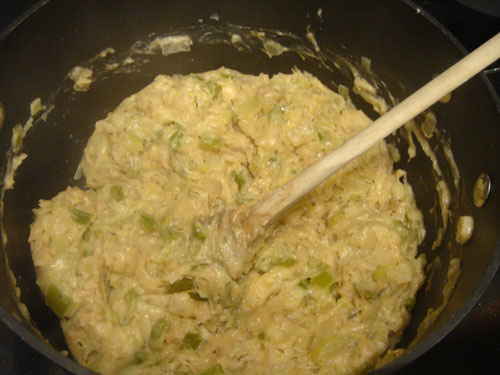 Remove the clam chowder from the heat and stir in half-and-half until blended. Heat the clam chowder back up to serving temperature, stirring occasionally. The chowder will be a bit thin, but thickens quickly as it cools off in your serving bowl. I like to serve with bread for dipping.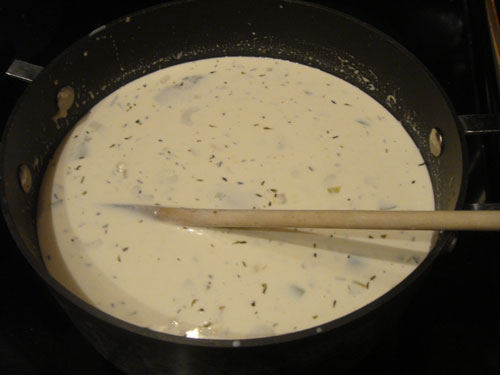 .