My husband loves chicken parmesan and baked spaghetti, so I decided to try to combine the two making chicken parmesan on baked spaghetti. In this one I go pretty simple on the ingredients (for the sake of time and it tastes just as good).
Ingredients for chicken parmesan on baked spaghetti:
1/2 cup milk
1 egg
Italian seasoned bread crumbs
3-4 boneless skinless chicken breast pounded to 1/2 thick
Olive oil
Spaghetti noodles
1 jar of your favorite marinara sauce
8 oz mozzarella cheese
2 medium fresh tomatoes
Add olive oil to a pan and heat over medium heat. Whisk the egg and milk in a bowl. Dip the chicken breasts in the mixture and coat with the Italian seasoned bread crumbs. Place in frying pan in the hot olive oil and cook for a few minutes on each side until slightly browned.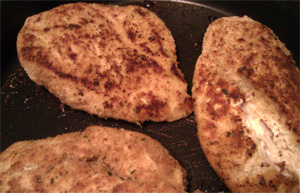 In another pan bring water to a boil and cook spaghetti noodles as directed (keep them al dente as you will be baking them). I used about a quarter of a package of noodles. Try not to make too many noodles or plan to use extra sauce if you want to make a lot of noodles. Drain spaghetti noodles.
Preheat oven to 350 degrees farenheit. Shred half of the mozzarella cheese and mix with half the bottle of spaghetti sauce and chopped tomatoes. Mix the tomato sauce with the spaghetti noodles and place in a casserole dish. Lay cooked and breaded chicken breasts along the top of the spaghetti pour the rest of the spaghetti sauce across the top of the chicken breasts coating them. Spread out the rest of the mozzarella cheese sliced into 1/4 inch slices across the top of the chicken breasts covered in spaghetti sauce.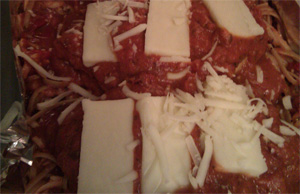 Place in the oven for 45 minutes until the cheese is completely melted and everything is bubbly. Serves 3-4 depending on the number of chicken breasts you used..