Funny enough, but my husband and I love tomato soup, but we don't like  raw fresh tomatoes by themselves. We had quite a few fresh tomatoes left growing on the vine and decided to cook a nice garden fresh tomato soup to eat with some cheese bread that we have (another great compliment to tomato soup is a grilled cheese sandwich).
2 cups of fresh chopped tomato
1/4 cup minced onion
1/2 teaspoon oregano
1/2 teaspoon garlic powder
1/2 teaspoon white sugar
salt to taste
Fresh ground black pepper to taste
2 tablespoons butter
2 tablespoons flour
2 cups milk
Simmer tomatoes, onions, basil, garlic powder, sugar, salt and pepper. Once onions are cooked.In a separate pan melt butter and stir in the flour once it is melted. Whisk in the milk, and cook until thickened. Slowly add the tomato sauce stirring frequently.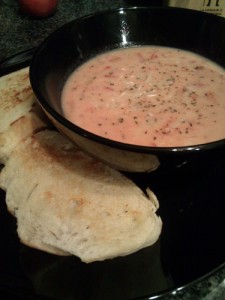 Serve with toast or grilled cheese sandwiches. Feeds 2..