As I mentioned in my previous post, my mom makes delicious homemade chicken noodle soup every fall, and this year I decided to go ahead and take a stab at making this myself. My mom discovered a little bit of a shortcut this year by using canned chicken (the chicken she had used she canned herself, I am not nearly as awesome as she is, so I used store bought canned chicken, but it came out great). I decided that the value in time spent was focusing on making some great homemade noodles and less time focusing on cooking chicken.
1 batch homemade egg noodles
1 1/2 cups sliced baby carrots
2 stalks celery chopped
1 small yellow onion chopped
1 tablespoon chicken base
1 teaspoon basil
1 teaspoon oregano
1/4 cup fresh chopped parsley
2 32 oz boxes of chicken broth
2 12.5 oz cans premium white chicken meat
Slice baby carrots in half the long way, chop celery and chop onion. Melt 1 tablespoon butter in the pot and add the vegetables. Cook over medium heat for about 5 minutes, add the spices, chicken base and chicken broth (I used low fat and low sodium, but your broth is up to you).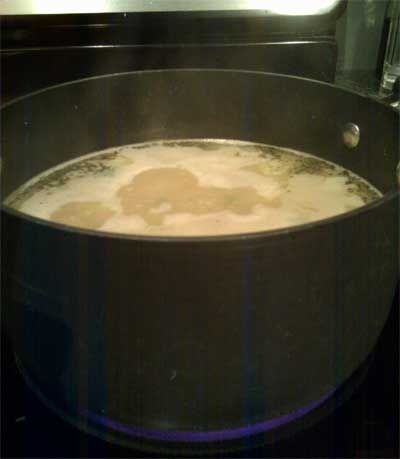 Bring to a boil, turn heat down to medium and add the canned chicken with juices. Cook for 20 minutes stirring a frequently until carrots are tender. raise the heat up to medium high and add the homemade egg noodles into the chicken noodle soup broth slowly, stirring the whole time.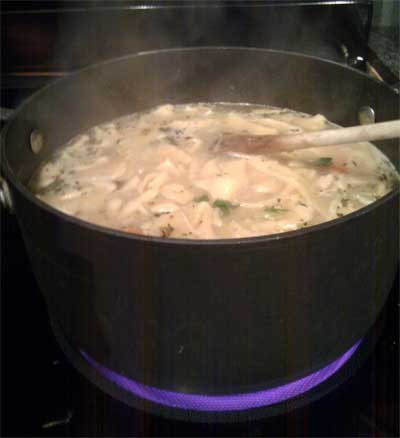 Cook the noodles for 5-10 minutes and serve! I love my homemade chicken noodle soup with crackers, how about you?