Typically I prepare this the evening before we eat it so that it has all day the next day to cook on low and it is ready when I get home.
Ingredients for meaty crockpot chili:
1 large steak cut into small pieces
2 cans black beans drained
1 can pinto beans drained
1 can corn drained
1 4 oz can green chiles drained
3 medium tomatoes chopped or 1 can tomatoes
1 small yellow onion chopped
1/2 red pepper chopped
1/2 green pepper chopped
1 Tbsp chili powder
1 Tbsp garlic powder
1 Tbsp ketchup
3 bay leaves
2 teaspoons fresh ground pepper
1 teaspoon red pepper flakes
12 oz bottle of beer
Serve with:
Sour cream
Shredded Mexican cheese mix
Tortilla chips
Mix all of the main ingredients in a crockpot and cover and keep in fridge  overnight. In the morning place the chili in the crockpot on low and let cook (usually 8-9+ hours while I am at work). Add salt to taste.
Add a dollop of sour cream, some shredded cheese and serve the crockpot chili with tortilla chips.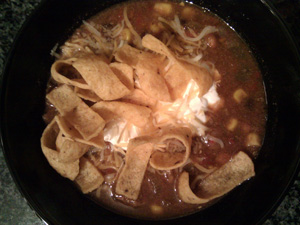 Serves 6..